WHAT'S GOING ON
HACCP CERTIFICATION – PRESS RELEASE RODA AL BUSTAN HOTEL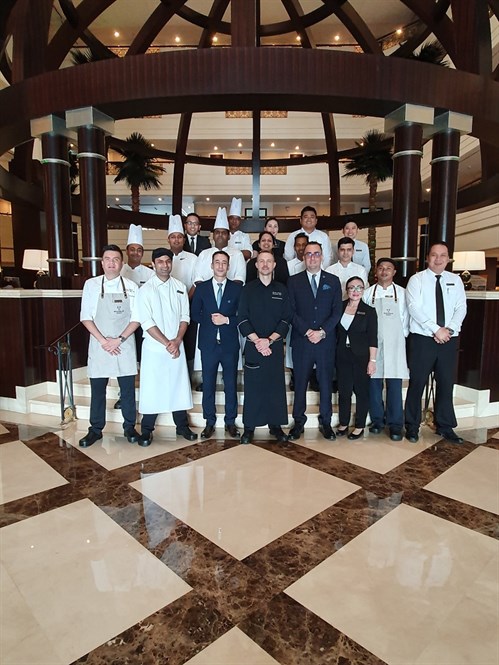 Dubai, United Arab Emirates,– The award winning Roda Al Bustan, a five star hotel located in Al Garhoud has been awarded the prestigious Hazard Analysis and Critical Control Point System (HACCP) certification. Roda Al Bustan features 7 dining outlets, with different cuisines ranging from Thai, Japanese to Latin America. Roda Al Bustan is in essence a dining destination of Dubai and this certification reinforces the hotel's commitment to providing consistent quality in food service.
HACCP is a recommended control system for the hygiene of food products and a prevention based system of food safety and hygiene. It has been adopted internationally as the basis for all discussions on food safety and prevention against dangers associated to food absorption, such as food poisoning, and the presence of chemical products and foreign particles.
The concept of HACCP came up in the late 1950s when the United States opened the space food to ensure food without harm. In the early 1980s, the United States National Academy of Sciences and International Commission on Microbiological Specifications for Foods (ICMSF) officially launched the HACCP system.
 "With the HACCP certification, I am confident to say that other than the world class experience in service and taste of our food our guests enjoy at our dining venues, they can now also count on a higher level of food safety as another core benefit of dining with us. At Roda Al Bustan, we now pride ourselves in producing safe and hygienic food and beverage to our guests, as well as to our colleagues. We do this by ensuring the highest standards and practices to control, reduce and eliminate potential food hazards, by rolling out continuous quality checks to ensure improvement of our food safety systems, by keeping communication on food safety ongoing at all times with relevant parties, and by complying with relevant statutory and regulatory requirements." Says the General Manager of Roda Al Bustan, Amro Nagah.
ABOUT RODA AL BUSTAN
Roda Al Bustan is a 5-star hotel located in the heart of Al Garhoud, Dubai. The hotel features, 279 rooms, 7 dining outlets and an array of Meeting, conferences and social events.
Committed to providing guests with an outstanding choice of accommodation, services, customer care and F&B, Roda Al Bustan ensures that guests' expectations and consistently met and excelled.
The vision? To drive hospitality to new heights through innovation, motivation and empowerment