Ramadan Offers
Embrace the Holy Month of Ramadan with a variety of memorable experiences at Roda Amwaj Suites. Celebrate every day soaked in divinity and reflection, with families and loved ones. With the picturesque view of the sprawling beach and the majestic Dubai Eye to give you company, enjoy the spread of delectable Ramadan favourites and traditional goodies at Iftar.
Be captivated with an unmatched hospitality, comfort and celebrate good times with your loved ones away from home.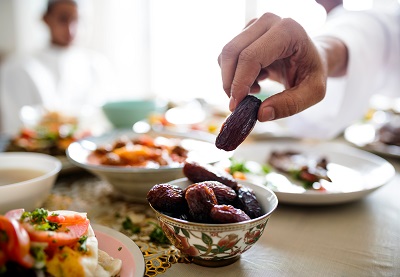 Enchanting Iftars with a view
5th May – 5th June 2019 Iftar –
From sunset to 8.40 PM
Let rich Arabian flavours, traditional décor and a relaxing atmosphere come together to make every day count with family and friends, this Holy Month.
Relish traditional Arabian delicacies over Iftar settings that reflect the true spirit of Ramadan. Share inimitable moments in the company of your loved ones, as you enjoy a la carte Iftar buffet featuring a spread of decadent dishes, sweet treats and special Ramadan beverages.
AED 85 per person
Ramadan Specialties at your Doorstep 24/7
5th May – 5th June 2019 
Enjoy the luxury of expertly created Iftars, delivered to the comforts of your home with our dedicated takeaway options throughout the Holy Month of Ramadan.
Savour mouthwatering specialties from our a la carte menu featuring traditional Arabic hot and cold dishes.
For information, please call +971 4 278 4200 or fnb.ras@roda-hotels.com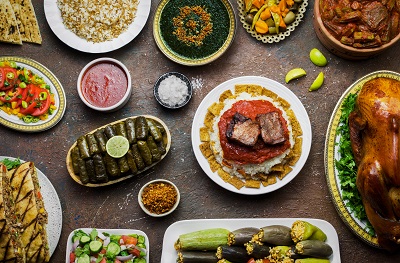 Corporate Iftar Packages
Book an Iftar experience for a large gathering at Roda Amwaj Suites and enjoy the exquisite taste of Arabic culinary delights with an array of live cooking stations paired with traditional Arabic sweets and beverages.
For more intimate get-togethers, reserve our chic and stylish Penthouse featuring an understated style and seclusion featuring scenic views of the sprawling beach and the Dubai
AED 70 per person (Min 10 – max 130 guests)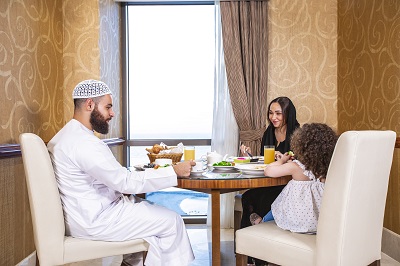 The Ultimate Eid Getaway
Enjoy a home away from home experience with family and friends at Roda Amwaj Suites this Eid Al Fitr. Set in the heart of Jumeirah Beach Residences, minutes from The Walk, all our rooms feature stunning views of the Arabian Gulf, Palm Jumeirah and Dubai Eye.
Starting from AED 616 per night
Inclusive of a stay and Iftar for 2 guests
Terms and conditions apply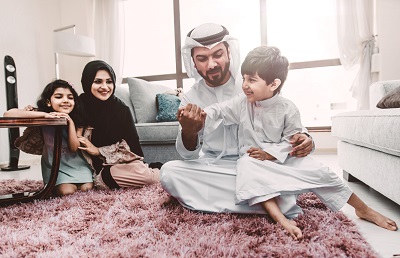 Ramadan Staycation at Roda Amwaj Suites
Mark the Holy Month with a stay that offers a chance for reflection and relaxation. This Ramadan, spend your weekend soaking in the beautiful vistas of Dubai Eye and the Arabian Gulf at Roda Amwaj Suites, where comfort and luxury meet to make everything feel like home.
Starting from AED 355 per night
Inclusive of a stay and Iftar for 2 guests
Terms and conditions apply